ALCHEMIST'S LAB
Red Potion, Green Potion plus a Blue vial are the potions you get to use here, but is not all the symbols you get, there are gold coins, gold rings and a spell book added into this mix just to make it exciting.
This slot game is powered by Playtech, and they certainly have done well in this one. The colours are vibrant, the graphics great and the whole theme of magic certainly comes through. There is a more of a 3D effect to this game as the reels are not flat across the screen, but are on a barrel in front of the score book.
This game is pretty much the standard 3-reel, 1 payout line game with a slight difference. Here you can wager your 1 dollar/pound or euro, up to 3 dollars/pounds/euros by pushing the three buttons below the reels.
Get three spell books in a line and you are presented with a choice of potions. Choose three potions, add these potions together, pour them into an ingot mould and see what you come out with. The larger the ingot, the larger your payout will be. Get the right combination and the right size ingot and you may just be the winner of the Jackpot of $30,000.
Alchemist's Lab is a great game and one that is not cluttered with extra symbols and paraphernalia. It is there purely to see if you can use the magic presented to you and see if you can turn your spins into gold.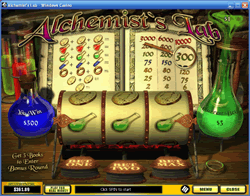 Slot Guide
Reels: 3
Pay lines: 1
Denominations: $1.00 - $3.00
Highest Pay: 10,000 COINS
Coins Per Pay Line: 1 -3
Progressive: No
Jackpot: $30,000 coins
Coin Sizes: 0.01 to 1.00
Min Bet: 1 Line x 1 Coins $1.00 = $1.00
Max Bet: 1 Line x 3 Coins $3.00 = $9.00
Default Coin Size: $0.50
Wild Symbol: No
Multiplier: No
Scatter Symbol: No
Free Spins: No
Bonus Game: Yes.
Payline Guide
1 x Gold Coin - 2x, 4x or 6x coins
2 x Gold Coins - 25x, 50x or 75x coins
3 x Gold Rings - 40x, 80x or 120x coins
3 x Blue Winning Potion - 75x, 150x or 225x coins
3 x Green Betting Potion - 100x, 200x or 300x coins
3 x Red Magic Potion - 200x, 400x or 600x coins
3 x Gold Coins - 3000x, 6000x or 10000x coins