NUTTY SQUIRREL VIDEO SLOT - 5 Reels - 20 Paylines - UNIQUE
A family of extraordinary little rodents waiting to gnaw their way into your heart as they offer to entertain and reward you for your support while reeling them around in this cute video slot game by Microgaming. Three or more scattered Golden Acorns takes you into a 15 free spin feature where all wins are doubled with the possibility of retriggering the feature. Substituting on reels 1 and 5 only, the Nutty Squirrel will take your payline bet and double your winning combination at any time. Awesome graphics and animation in this game will keep you captivated for many an hour.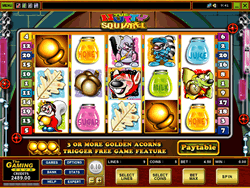 Background to the Nutty Squirrel video slot
There are three basic body forms in squirrels: tree squirrels, ground squirrels and flying squirrels. Tree squirrels have long, bushy tails, sharp claws and large ears. Some have well-developed ear tufts. Flying squirrels have a furred membrane (patagium) extending between the wrist and ankle that allows them to glide between trees. Ground squirrels often have short, sturdy forelimbs that are used for digging. Their tails, while fully furred, generally are not as bushy as those of tree squirrels. Like many other rodents, all squirrels have five functional toes on the hind feet and four on the forefeet, with a well-developed claw on each digit.
Slot Guide
Theme Comical
Reels 5 Reels
Paylines 20 Paylines
Coin Sizes 0.01; 0.02; 0.05; 0.10; O.20; 0.50
Coins per Payline 1 - 20
Highest Pay 200,000
Maximum Jackpot 5000 x 20 coins per line x 2 (substitute)= 200,000 coins in base game
5000 x 20 coins per line x 2 (substitute)= 200,000 x 2 multiplier = 400,000 in free spin feature
Wild Symbol Yes
Scatter Symbol Yes
Free Spins Yes
Feature Yes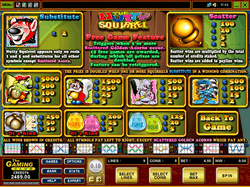 Payline Guide
Green Squirrel 5000 times 20 coins per line
Royal Squirrel 1500 times 20 coins per line
Gladiator Squirrel 500 times 20 coins per line
Armored Squirrel 500 times 20 coins per line
Acorn and Silver leaf 250 times 20 coins per line
Yellow and Pink Honey POt 200 times 20 coins per line
Blue and Green Honey Pot 125 times 20 coins per line
Golden Acorn (scatter) 100 times 20 coins per line
Nutty Squirrel Video Slot Summary
Light hearted, funny and entertaining with great rewards is in store for all who play among these cute little critters.