S.W.A.T. TEAM VIDEO SLOT
Microgaming has invited the S.W.A.T Team to come and take part in this 3 reel slot game with 1 payout line, but a very strange team arrived. A horde of SWAT Flies buzzed in to come and give you some excitement and to see if you can bear them or if they can beat you.
Here you get flies that are being swatted and flies that are S.W.A.T and each will give you a certain amount of rewards, but it is the S.W.A.T Team logo that will really get this game going.
The S.W.A.T Team Logo is wild which means that it will replace any other symbol in the payout line to give you the highest possibly payout plus it will reward you as if you have 1 x S.W.A.T Team logo your winnings will be doubled, but get two and suddenly your winnings are x 4.
But that is still not all that this logo offers you. Get three in a line on the payout line and assuming you bet x2, you will be given 1600x coins. What a swatting prize that will be.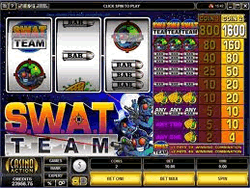 Slot Guide
Reels - 3
Paylines - 1
Coin Sizes (casino sets) - $0.05 up to $5
Coins Per Payline – 2
Betting Range - $0.05 up to $10
Highest Pay – 1600 Coins
Max Cash Payout - $8000
Progressive - No
Wild Symbol - Yes
Multiplier Symbol - Yes
Scatter Symbol – No
Bonus Game - No
Gamble – No

Payline Guide
1 x SWAT Team Symbol - WILD pays 2 x highest combination payout
2 x SWAT Team Symbol - WILD pays 4 x highest combination payout
1x Swatted Fly (any) - 2x or 4x coins
2x Swatted Fly's (any) - 5x or 10x coins
3 x Swatted Fly's - 10x or 20x coins
3 x Bars (any) - 5x or 10x coins
3 x Single Bars - 10x or 20x coins
3 x Double Bars - 25x or 50x coins
3 x Triple Bars - 40x or 80x coins
3 x Combat Flies - 80x or 160x coins
3 x SWAT Team Symbols - 800x or 1600x coins