THUNDERSTRUCK VIDEO SLOT
Let the thunder roll, the lightning strike and Thor enters this 5-reel, 9 payout line slot game with his steel helmet, Mjollnir hammer, his horn and his rams and is ready to rumble and strike it rich for some lucky player.
The graphics are good and the game fast in the true Microgaming software fashion and the audio sounds match this wonderful theme. Although this game was released in 2003, it has remained one of the more popular Microgaming slot games to date.
The Wild Symbol is Thor himself. This wild symbol has a few functions. Get one Thor symbol and it can be used for any other symbol to complete a winning line. When this symbol completes a winning line, he automatically doubles the value of the win. But that is not all. Get any multiples of Thor on one line and you will get extra payouts and getting him across all lines wins you the top prize of 10,000 coins.
Scatter Symbols are represented by the Rams. When at least two of them appear on any line you start winning instant coin payouts. This is calculated in multiples of whatever your initial bet was.
Free Spins happens when three rams appear on your payout line, and as an extra bonus you can get free spins while you are having your free spins, so this could just multiply itself indefinitely should you get the right combinations.
Lastly, there is a Gamble Card. When you win, you get a card presented to you face down. Choose what colour the card (Red or Black), and if you get it correct your points are automatically doubled or quadrupled.
This is a fantastic game and has enough variations to keep it interesting but not too many to make it complicated.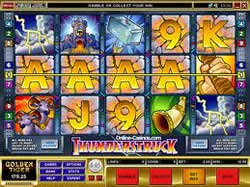 Background to Thunderstruck video slot
If you have a passion for sci-fi stories and games, the Thunderstruck video slot is the perfect winning recipe for you! Watch out for the unpredictable mood swings of Thor - the Norse God of Thunder in Thunderstruck who rules over his kingdom with a steel fist and an electric gaze. Thor's favourite objects such as is his War Hammer, his staff and his lightning throwing belt all play important roles in the game adding to the mysterious theme of Thunderstruck.
Slot Guide
Reels: 5 Pay lines: 9
Denominations: 0.01 - 1.00
Highest Pay: 10,000 COINS
Coins Per Pay Line: 1 -5
Progressive: No
Jackpot 10,000 coins 2nd Jackpot 2,000 coins
Coin Sizes: 0.01 to 1.00
Min Bet: 1 Line x 5 Coins 0.01 = 0.05
Max Bet: 1 Line x 5 Coins 1.00 = 5.00
Default Coin Size: $0.50
Gamble Card: Yes
Free Spins; Yes