Win A Million Dollars.COM - 5 Reels
If it is dollar signs that get your blood pumping then this is definitely the game for you. Here the dollars fly all over the screen and are a constant reminder of why you are playing the game and the need to collect all those dollars and make sure it adds up to the $1,000,000 that is on offer here.
Playtech software has certainly provided you with a multitude of symbols that spin across this 5-reel, 5 payout line slot game. The Briefcase, Cash, Coin, Diamond, Dollar Sign, Million Dollar Cash Symbol, Old gentleman with two young lady, Safe, Sleeping Man and Smiling Man can all be found here and the whole intention of this game is to line them up so that you end up being the winner.
Here placing your bet is easy. Choose what amounts you want to play and then at the bottom of the screen you can choose how many coins you want to play. Should you wish to put yourself right there in line to lay your hands on that Million Dollars, then push Bet Max and hit spin and see if those Million Dollar symbols are going to be kind to you and line themselves up in the perfect formation for a massive payout.
There is also a bonus here for you. Line three to five briefcases up in one payout line and you will be presented with nine briefcases. Carefully choose the briefcase you believe hold the best bonus for you, click on it, watch it open and see your account balance start climbing to the value of your bonus.
This is a fast and easy game to play and one that has high rewards. Remember maximum bets have to be placed to get a chance at the big prize.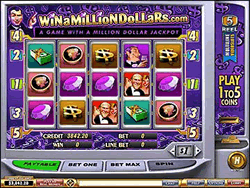 Slot Guide
Reels 5
Pay lines: 5
Denominations: Pounds, Euro's and Dollars.
Highest Pay: $1,000,000
Coins Per Pay Line: 1 - 5
Progressive: No
Jackpot: 15,000 coins
Coin Sizes: $0.25 to $5.00
Min Bet: 1 Line x 1 Coins $0.25 = $0.25
Max Bet: 1 Line x 5 Coins $5.00 = $25.00
Default Coin Size: $1.00
Wild Symbol: No
Multiplier: No
Scatter Symbol: No
Free Spins: No
Bonus: Yes
Payline Guide
3 – 5 x Gold Coins - 5x, 15x or 50x coins
3 – 5 x Gold Dollar Signs - 5x, 25x or 100x coins
3 – 5 x Stacks of Money - 10x, 50x or 200x coins
3 – 5 x Safe - 15x, 100x, 500x coins
2 – 5 x Diamond - 5x, 25x, 150x or 1000x coins
2 – 5 x Tycoon sleeping on a bed of money - 5x, 50x, 25x or 2000x coins
2 – 5 x Tycoon drinking cognac - 10x, 75x, 300x or 3000 coins
2 – 5 x Tycoon out socialising - 15x, 125x, 500x or 5000 coins
2 – 4 x Million emblem - 25x, 250x, 2500x coins
5 x Million emblems - 10 000x coins for 5 x on any payout line 15 000x coins bet less that €5 x 5 lines $1 million €5 bet on 5 x lines
3 – 5 x Money Briefcases - Will activate Bonus Round