ALIEN ALERT VIDEO SLOT
If you like the idea of Aliens coming down to our planet then this Playtech 3 reel game with one payout line will certainly catch you and get you to put out the call as there is definitely an Alien Alert that needs to go out.
The aliens are landing. There are Red Aliens, Blue Aliens, Yellow Aliens and they have UFO's and Ray Guns. The Radio Telescope has picked them up and now it is your turn to see if you can get them all captured on the one payout line and claim the reward that is being offered.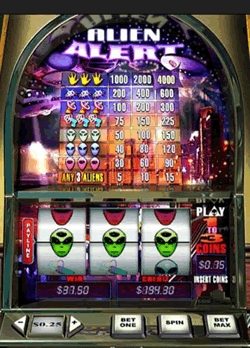 Slot Guide
Reels: 3
Pay lines: 1
Amounts Accepted: $0.05 – $15.00
Betting Range: $0.05 to $5.00
Coins Per Pay Line: 3
Max Bet: $15.00
Progressive: No
Wild Symbol: No
Scatter Symbol: No
Multiplier Symbol: No
Max Bet: 3 coins
Default Coin amount: $1.00
Bonus Game: No
Free Spins: No
Payline Guide
3 x Aliens (Any) - 5x, 10x or 15x coins
3 x Pink Aliens - 30x, 60x or 90x coins
3 x Blue Aliens - 40x, 80x or 120x coins
3 x Green Aliens - 50x, 100x or 150x coins
3 x Alien Guns - 75x, 150x or 225x coins
3 x Radio Telescopes - 100x, 200x or 300x coins
3 x Flying Saucers - 200x, 400x or 600x coins
3 x Yellow Hands - 1000x, 2000x or 4000x coins