BERMUDA TRIANGLE VIDEO SLOT - 3 Reels - 5 Paylines
The Bermuda Triangle is renowned for being steeped in mystery as there have numerous uncanny and unnatural disappearances that have taken place right here, but Playtech have decided to make the Bermuda Triangle a place you want to visit and have developed and 3 reel slot game with 5 payout lines that has the very name of this very mysterious and misunderstood area in the North Atlantic Ocean.
As you sit to play, you will hear the thunder roll, you will hear planes flying over head and ships bells and the wind pumps through their sails. You will see giant squids that usually send the fear of death into most sailors, you will see dolphins and you will see some sharks breaking the water surface.
This is no place for the faint hearted, so do you have the backbone to take on the Bermuda Triangle. There is only one way to find out. Sit down, bet one to 5 coins, hit that spin button and see what the Bermuda Triangle has in store for you.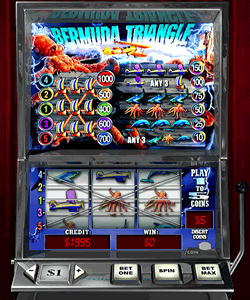 Slot Guide
Reels: 3
Pay lines: 5
Amounts Accepted: $0.01 – $25.00
Betting Range:$0.01 to $5.00
Jackpot: $25,000
Coins Per Pay Line:1
Max Bet: $25.00
Progressive: No
Wild Symbol: Yes
Scatter Symbol:No
Multiplier Symbol:No
Max Bet: 5 coins
Bonus Game: No
Free Spins: No
Pay line Guide

3 x Sharks/Giant Squids/ Dolphin - 10x coins
3 x Dolphin - 25x coins
3 x Giant Squids - 50x coins
3 x Sharks - 75x coins
3 x Biplane/Sail Boat (any) - 100x coins
3 x Biplanes - 150x coins
3 x Sail BoatLine 1 - 400x coins
3 x Sail BoatLine 2 - 500x coins
3 x Sail BoatLine 3 - 600x coins
3 x Sail BoatLine 4 - 700x coins
3 x Sail BoatLine 5 - 1000x coins