BOOGIE MONSTER VIDEO SLOT
Deep in the dark dark woods live the Boogie Monsters. They come out at night when the moon rises so that they can have their Boogie Monster Party. Microgaming has captured the essence of the Boogie Monsters, and now offers you an exciting 5 reel game with a massive 40 payout lines.
The Boogie Monsters consist of werewolves, bats, skeletons of dead people, mummies, witches and a whole host of other scary things that congregate each night to Boogie the night away while they drink toxic eyeball drinks.
The Fat bat is your scatter symbol and get 3,4 or 5 of him on one line and you will also receive a fat bonus. The blue gloop is another scatter symbol and with 3, 4 or 5 of these on one line, you will get up to 13 free spins plus your line bet will also be multiplied.
But the beauty of this game is that you do not have to wait till nightfall to start playing, as this game is available to play 24/7, 365 days a year. So come along right now and see if you can get a couple of the Boogie Monster symbols, the Turquoise Elvis, The Wizard, The werewolf, the Gremlin, the mummy, the skeleton or one of the other symbols to all sit nicely on one line for you.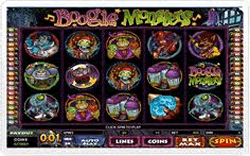 Slot Guide
Reels - 5
Pay lines - 40
Coin Sizes (casino sets) - $0.01 - $0.02
Coins Per Pay line – 1
Betting Range - $0.25 up to $20
Highest Pay – 24 000x coins
Max Cash Payout - $4 000 or $6 million during Free Spins when betting Max.
Progressive - No
Wild Symbol - Yes
Multiplier Symbol - No
Scatter Symbol – yes
Gamble – Yes
Free Spin Feature - Yes
Bonus Round - Bat Bonus
Payline Guide
3 – 5 x Purple Test Tubes - 10x, 20x or 100x coins
3 – 5 x Green Sculls - 15x, 30x or 200x coins
3 – 5 x Frothing Red Mugs - 10x, 20x or 100x coins
3 – 5 x One Eyed Monster - 15x, 30x or 200x coins
3 – 5 x Purple Boogie Monster - 25x, 50x or 300x coins
3 – 5 x Werewolf - 30x, 100x or 500x coins
3 – 5 x Green Boogie Monster - 25x, 50x, or 300x coins
3 – 5 x Wizard - 40x, 200x, or 750x coins
2 – 5 x Elvis Boogie Monster - 5x, 50x, 250x or 1000x coins
2 – 5 x Boogie Monster Symbol - 7x, 75x, 750x or 5000x coins
3 – 5 x Blue Goo or Fat Bat - 2x total Bet; (SCATTER) 10x total Bet;100x total Bet