CASH SPLASH VIDEO SLOT
Microgaming invites you to come and play Cash Splash, their very innovative and entertaining 3 reel slot game that comes with a wild symbol plus a Progressive Jackpot.
Here you will find cherries, bars that come in singles, doubles and triples plus sevens and the Cash Splash Symbol. Although some of the other symbols will definitely reward you when you get one, two or three of them on the payout line, the Cash Splash Symbol is certainly what you are looking for as if you get one or two one one line, this symbol will act as the wild card and replace any other symbols to give you the best possibly payout, but get three of them on one line, when you have bet the max, and the Progressive Jackpot will all be credited to your account.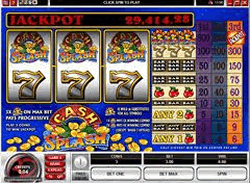 Slot Guide
Reels - 3
Paylines - 1
Coin Sizes (casino sets) - €1
Coins Per Payline – 3
Betting Range - €1 to €3
Highest Pay – Progressive Jackpot
Max Cash Payout – Progressive Jackpot
Progressive - Yes
Wild Symbol - Yes
Multiplier Symbol - Yes
Scatter Symbol – No
Bonus – No
Gamble – No
Payline Guide
1 x Cherries (Any) - 2x, 4 x or 6x coins
2 x Cherries (Any) - 5x, 10x or 15x coins
3 x Cherries - 20x, 40x or 60x coins
3 x bars (any) - 3x, 6x or 9x coins
3 x single Bars - 10x, 20x or 30x coins
3 x double Bars - 25x or 50x or 75x coins
3 x triple Bars - 50x, 100x or 150x coins
3 x Sevens (Red) - 100x, 200x or 300x coins
3 x Cash Splash - 800x, 1600x coins or the Progressive Jackpot