CHERRY RED VIDEO SLOT
Cherry Red is a fun 3 reel slot game with 1 payout line that has been brought to you by Microgaming. The bells, the bars and the cherries are all here in this game where you can either bet one coin for fun or two coins to double your winnings.
Although the cherry is wild, which means that it will replace any other symbol on the one payout line to give you the highest possibly payout, but get three cherries on that same line and the Jackpot prize is all yours.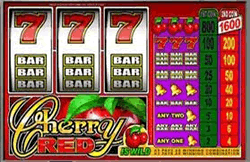 Slot Guide
Reels - 3
Paylines - 1
Coin Sizes (casino sets) - $0.25 up to $10
Coins Per Payline - 2
Highest Pay – 1 600 Coins
Max Cash Payout - $8 000
Progressive - No
Wild Symbol - Yes
Multiplier Symbol - Yes
Scatter Symbol – No
Bonus – No
Gamble – No
Payline Guide
1 x Cherry - WILD pays 2 x highest combination payout
2 x Cherries - WILD pays 4 x highest combination payout
Any 1 x Bell - 2 x coins
Any 2 x Bells - 5x or 10x coins
3 x Bells - 20x or 40x coins
3 x Bars (any) - 3x or 6x coins
3 x single Bars - 10x or 20x coins
3 x Bells - 20x or 40x coins
3 x double Bars - 25x or 50x coins
3x triple Bars - 50x or 100x coins
3 x 7's - 100x or 200x coins
3 x Cherries - 800x or 1 600x coins