CINERAMA VIDEO SLOT - 5 Reels - 5 Paylines
Playtech is bringing Cinerama to your screen in a 5 reel slot game that has five payout lines. Here the movies come to life as you get all the different types of equipment lined up to make a shoot a successful one.
The Microphone start off the rewards when you get three or more of them on any of the payout lines and then progresses to the spot light, the stars, the film tape, loudspeaker, film reel, clapperboard and script.
The video camera has the highest reward as, in this game you have the choice of either betting once, twice, three times, four times or five times, and if you have chosen to bet less than five times, you will earn yourself 10,000x coins when you get five video cameras on one payout line, but bet max and the Progressive Jackpot will be all yours.
But don't forget the headphones. Get a pair of them on any payout line and you will activate bonus round one, but the frustrated director offers you bonus round 2 when you get three or more of him.
If the cinema is your passion, stop here at Cinerama for a while and see what this game can do for you.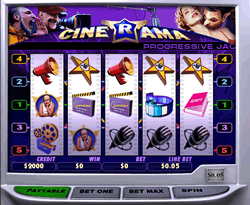 Slot Guide
Reels: 5
Pay lines: 5
Amounts Accepted: $0.01 – $5.00
Betting Range:$0.01 to $0.25
Maximum Coins Win10 000x coins
Jackpot: Jackpot
Coins Per Pay Line:1
Max Bet: $25.00
Progressive: Yes
Wild Symbol: Yes
Scatter Symbol:Yes
Multiplier Symbol:No
Max Bet: 5 coins
Bonus Game: Yes x 2
Pay line Guide

3 - 5 x Microphones - 10x, 25x or 100x coins 2x coins
3 - 5 x Spot Lights - 20x, 70x or 200x coins
3 - 5 x Golden Stars - 20x, 100x or 300x coins
2 - 5 x Film Tape - 4x, 30x, 125 x or 400x coins
2 – 5 x Loud speakers - 4x, 30x, 150x or 500x coins
2 - 5 x Film Reel - 5x, 40x, 200x or 600x coins
2 - 5 x Clapperboards - 10x, 50x, 250x or 800x coins
2 - 5 x Scripts - 10x, 60x, 300x or 1000x coins
3 x Video Cameras - 25x coins
4 x Video Cameras - 1000x coins
5 x Video Cameras - 10000x coins
5 x Video Cameras (Max Bet) - Jackpot