COUCH POTATO VIDEO SLOT
This is one truly lazy potato. He is all alone on his couch waiting for the wheel to spin to see what he has won. There is plenty winnings here to choose from, if he would just get off that very comfortable couch with its really comfortable couchy cushions.
If he had to get up and start spinning this 3 reel slot with its one payout line that has been so fantastically put together by Microgaming software, he would find that there is just so much to win here. Bet once, bet twice or bet three times and take the whole couch for yourself when you get the three couch potatoes in one line. But don't fret if you only get one or two in a line as the couch potato symbol is also wild, so should you have any other symbols on one line that could be a winning combination should you have had the third one, the couch potato will replace that symbol for you.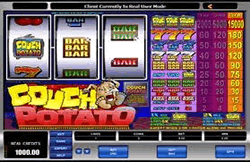 Slot Guide
Reels - 3
Paylines - 1
Coin Sizes (casino sets) - $0.25 up to $5
Coins Per Payline – 3
Betting Range - $0.25 up to $10
Highest Pay – 1 500 Coins
Max Cash Payout - $75 000
Progressive - No
Wild Symbol - Yes
Multiplier Symbol - Yes
Scatter Symbol – No
Bonus – No
Gamble – No
Payline Guide
1 x Couch Potato Symbol - 5x coins
2 x Couch Potato Symbol - 25x, 50x or 75x coins
Any one Cherry - 2x, 4x or 6x coins
Any 2 x Cherries - 10x, 20x or 30x coins
3 x single Bars - 10x, 20x or 30x coins
3 x double Bars - 20x,40x or 60x coins
3 x triple Bars - 30x, 60x or 90x coins
3 x Any 7's - 40x, 80x or 120x coins
3 x 7 Bar - 50x, 100x or 150x coins
3 x Red Hot 7's - 60x, 120x or 180x coins
3 x Couch Potato Symbols - 2 000x, 5 000x or 15 000x