DINOSAUR SLOTS VIDEO SLOT - 3 Reels - 1 Payline
Take a trip back in time with this fantastic Playtech slot game that offers you 3 reels with 1 payout line. Dinosaur Slots allows the dinosaurs to run wild and it is your mission to get three of them on any one line to claim your rewards.
Allosaurus, Alamosaurus, Deinoychus and Kentrosaurus are all here with Muttaburrasaurs to offer you a game that can only be described as a classic slot game.
There are no extras, no bonus games, no wild or scatter symbols and certainly no bonus games. This game is all about the reels spinning and getting three of the same kind of dinosaur on one line.
If you like the simpler slot game, then this game will definitely appeal to you.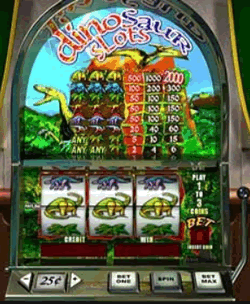 Slot Guide
Reels: 3
Paylines: 1
Jackpot: 2000 coins
Coin Size: $0.05 - $5.00
Max Coins: 3 Coins
Wild Symbol: No
Wild Multiplier: No
Scatter Symbol: No
Bonus Game: No
Gamble Game: No
Pay line Guide

1 x Palm Tree (any) - 2x, 4x or 6x coins
2 x Palm Trees (any) - 5x, 10x or 15x coins
3 x Dinosaur (green) - 20x, 40x or 60x coins
3 x Dinosaur (purple) - 50x, 100x or 150x coins
3 x Palm Trees - 50x, 100x or 150x coins
3 x Dinosaur (Blue) - 100x, 200x or 300x coins
3 x Dinosaur (yellow) - 500x, 1300x or 2000x coins