FANTASTIC 7's - UNIQUE
Its bright, it's bold and if you are a lover of the classic 3-reel 1 payout line classic slot games, then this game will definitely appeal to you.
There are ten different icons here. There is the Cherry, the Bar, Bar x 2, Bar x 3, any 7's, the red 7"s and the fantastic 7 logo. Hit three of any of these in a line and there will be a payout but the big one to get is three Fantastic 7's – then you will certainly have the pay table flashing highlighting just how much you have won.
Play can be started with one to three coins ranging from using $/€/£ 0.25, 0.50, 1, 2 or 5. Needless to say, your winnings will be derived from the amount that you have played. Should you play with $/€/£ 5, and strike the Fantastic 7's your payout could be as high as $/€/£2,000, but obviously if you play with a lesser amount your winnings will be calculated accordingly.
Fantastic 7's truly depicts the slot machines of the late 80's – early 90's. Although there is the reel noise when you spin and the win jingles when you win, this is a pretty basic slot game and would truly only appeal to those players who enjoy a game that smacks of yesteryear.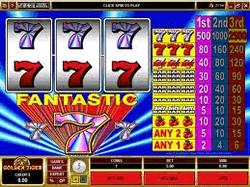 Background to the Fantastic 7's video slot
The number seven has deep spiritual significance. It has been held sacred by the Hebrews and other Semite peoples since the dawn of time. It represents perfection and holiness. It is used throughout the Scriptures and in this sense is the Almighty's Number.
Slot Guide
Reels - 3
Paylines - 1
Coin Sizes (casino sets) - $0.25 up to $15
Coins Per Payline – 3
Betting Range - $0.25 up to $10
Highest Pay – 2500 Coins
Max Cash Payout - $12 500
Progressive - No
Wild Symbol - No
Multiplier Symbol - Yes
Scatter Symbol – No
Bonus – No
Gamble – No

Payline Guide
1 x Cherries (Any) - 2x, 4x or 6x coins
2 x Cherries (Any) - 5x, 10x or 15x coins
3 x Cherries - 10x, 20x or 30x coins
3 x bars (any) - 5x, 10x or 15x coins
3 x single Bars - 10x, 20x or 30x coins
3 x double Bars - 20x, 40x or 60x coins
3 x triple Bars - 30x, 60x or 90x coins
3 x Sevens (Any) - 40x, 80x or 120x coins
3 x Sevens (Red) - 80x, 160 or 240x coins
3 x Fantastic Sevens - 500x, 1000x or 2500x coins