FLYING ACE VIDEO SLOT
He has wings, he loves the feeling of freedom that one can only find way up in the sky and he is known as the Flying Ace. Microgaming has honoured him by designing a really lucrative 3 reels slot game with 5 payout lines to entertain and reward you.
Payouts here start from when you get 2 x Flying Ace on one of the payout lines and ends with 3 x Aeroplane mascots and in-between there are single, double and triple bars. But the big money lies with the Flying Ace Pilot himself.
Get one or two of him on one line and he is wild and will only replace the symbols that is guaranteed to give you the highest possible payout, but get three of him on any of the five payout lines and suddenly your rewards become flying high.
If airspace is your game, and money is the name you like to hear, then come along and see if you can be the Flying Ace in this game.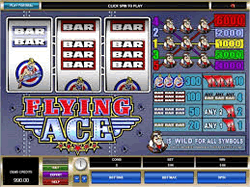 Slot Guide
Reels - 3
Paylines - 5
Coin Sizes (casino sets) - $0.05 up to $5
Coins Per Payline – 1
Betting Range - $0.05 up to $25
Highest Pay – 6000 coins
Max Cash Payout - $30 000
Progressive - No
Wild Symbol - Yes
Multiplier Symbol - No
Scatter Symbol – No
Bonus Game - No
Gamble – No

Payline Guide
1 x Flying Ace (any) - 0x coin
2 x Flying Aces (any) - 2x coins
3 x Flying Aces - 10x coins
3 x Bars (any) - 4x coins
3 x Single Bars - 20x coins
3 x Double Bars - 50x coins
3 x Triple Bars - 100x coins
3 x Mascots - 300x coins
3 x Flying Ace Pilots (line 1) - 1000x coins
3 x Flying Ace Pilots (line 2) - 2000x coins
3 x Flying Ace Pilots (line 3) - 3000x coins
3 x Flying Ace Pilots (line 4) - 4000x coins
3 x Flying Ace Pilots (line 5) - 6000x coins