FOREST OF WONDERS VIDEO SLOT - 5 Reels - 25 Paylines
Forest of Wonders is based on the Animated movie Alice in Wonderland, packed with all the great characters from the White Rabbit to the hilarious Mad Hatter. Playtech have out done themselves again with out of this world graphics and sound. If you looking for a light hearted game with loads of fun this one is for you.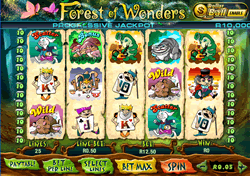 Forest of Wonders is a 5 reel and 25 payline video slot game. A Player can wager up to 10 coins per payline and each coin may vary from 0.01 to 5.00. The wild symbol is the Dormouse which has the highest fixed Jackpot at 5000 coins. The White Rabbit is the scatter symbol, if he appears on three or more of the reels the free spins are activated. Players then get to choose a rabbit and reveal how many free spins they get, additional free spins can be triggered in this round. For the bonus feature, three or more Toadstool symbols must appear consecutively in an enabled payline. The Players is then taken to a glade in the forest where there are 12 Toadstool. The Player then gets to choose any three Toadstools which they think will give them maximum bonus.
| | | |
| --- | --- | --- |
| Payscreen 1 | | Payscreen 2 |
| | | |
Slot Guide
Theme - Alice in Wonderland
Reels - 5 Reels
Paylines - 25 Paylines
Coin Sizes - 0.05 to 25.00
Maximum Coins - 1250.00
Fixed Jackpot - 5 000
Dollar Ball Progressive Jackpot - A seperate wager is placed for this. The Player chooses 5 numbers between 1-49, when the reel spins the game draws 5 numbers. If all 5 numbers match then the Progressive Jackpot is paid out.
Wild Symbol - Yes
Scatter Symbol - Yes
Free Spins - Yes
Feature - Bonus Round
Payline Guide
Dormouse ( Wild Symbol) - 5000 coins at 5 coins per line
Rabbit - 200 coins at 5 coins per line
Caterpillar - 150 coins at 5 coins per line
Treasure Cat- 150 coins at 5 coins per line
Mad Hatter- 100 coins at 5 coins per line
Ace Card- 75 coins at 5 coins per line
King Card- 75 coins at 5 coins per line
Queen Card- 50 coins at 5 coins per line
Jack Card- 50 coins at 5 coins per line
Ten Card - 50 coins at 5 coins per line