FORTUNA VIDEO SLOT
Microgaming has found the world that where the Roman goddess of fortune lives. She brings luck and personification and with the help of Fortuna, Microgaming has put together a 3 reel slot game that not only personifies who she is, but also offers you massive rewards.
Cherries start payout out when you have a few as one on any payout line. Bars are offered in single form, double form and triple form plus there are purple sevens that can be collected to increase your bank roll.
The Fortuna symbol is your wild symbol, which means it will substitute any other symbol and is used when you get one or two symbols on any one of the payout line, but get three symbols and your wealth will increase from 1000x coins on line one right up to 6000x coins on Line five.
Join the world of Fortuna, where the fountains spew out wealth all day long and see if you can collect some of this fortune and opulence for yourself.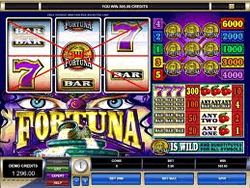 Slot Guide
Reels - 3
Paylines - 5
Coin Sizes (casino sets) - $0.05 up to $5
Coins Per Payline – 1
Betting Range - $0.05 up to $25
Highest Pay – 6000 coins
Max Cash Payout - $30 000
Progressive - No
Wild Symbol - Yes
Multiplier Symbol - No
Scatter Symbol – No
Bonus Game - No
Gamble – No

Payline Guide
1 x Flying Ace (any) - 1x coin
2 x Flying Aces (any) - 2x coins
3 x Flying Aces - 10x coins
3 x Bars (any) - 4x coins
3 x Single Bars - 20x coins
3 x Double Bars - 50x coins
3 x Triple Bars - 100x coins
3 x Sevens - 300x coins
3 x Fortuna Symbols (line 1) - 1000x coins
3 x Fortuna Symbols (line 2) - 2000x coins
3 x Fortuna Symbols (line 3) - 3000x coins
3 x Fortuna Symbols (line 4) - 4000x coins
3 x Fortuna Symbols (line 5) - 6000x coins