FRUIT VIDEO SLOT
In the mood for some healthy eating, then stop right here at this 3 reel slot game with one payout line as here the fruit is fresh, it is healthy and it is certainly very tasty.
There are plumbs, cherries, Lemons, Oranges and Watermelons, there are bars and there are a combination of all the fruits and depending if you have bet once, twice or three times will depict what your winnings are going to be.
The cherrie has the least value, and this is followed by the Lemon, The orange, the plumb and the watermelon follow with the Bars, be they single, double or triple, come in as the third most lucrative winning, but when you hit the Fruit Slot symbol which has all the fruit together, this is when you will truly get handsomely rewarded.
Start spinning and winning and see if you can make that fruit all your own.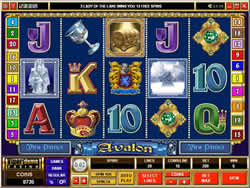 Slot Guide
Reels - 3
Paylines - 1
Coin Sizes (casino sets) - $0.25 up to $15
Coins Per Payline – 3
Betting Range - $0.25 up to $15
Highest Pay – 2500 Coins
Max Cash Payout - $12 500
Progressive - No
Wild Symbol - No
Multiplier Symbol - Yes
Scatter Symbol – No
Bonus – No
Gamble – No

Payline Guide
2 x Cherries (Any) - 3x, 6x or 9x coins
3 x Cherries - 5x, 10x or 15x coins
1 x Fruit Slot (Any) - 5x, 10x, or 15x coins
2 x Fruit Slot (Any) - 25x, 50x or 75x coins
3 x Limes - 10x, 20x or 30x coins
3 x Oranges - 10x, 20x or 30x coins
3 x Plums - 10x, 20x or 30x coins
3 x Watermelon - 10x, 20x or 30x coins
3 x single Bars - 20x, 40x or 60x coins
3 x double Bars - 40x, 80x or 120x coins
3 x triple Bars - 80x, 160x or 240x coins
3 x Fruit Slots - 250x, 500x or 2500x coins