GOLD COAST VIDEO SLOT
Here, on this coastline, the sand is made of gold coins, the palm trees are made out of solid gold and the sea is liquid gold. It is no wonder that Microgaming has decided to bring you a 3 reel slot game with 5 payout lines to entertain you that harnesses the ambiance of this Gold Coast.
There are beautiful red hibiscuses, golden sevens and single, double and triple bars. Collect any of these and you will definitely start seeing your bank roll rising. Get one or two Gold Coast symbol on any payout line and this symbol will become wild, so you get to replace any symbol on any of the payout lines to help you get the highest possible payout, but get three of these symbols on any payout line, bet your max amount of coins and stand to win a whopping big golden return.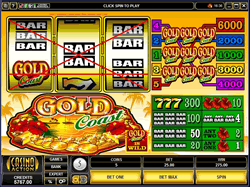 Slot Guide
Reels - 3
Paylines - 5
Coin Sizes (casino sets) - $0.05 up to $5
Coins Per Payline – 1
Betting Range - $0.05 up to $25
Highest Pay – 6000 coins
Max Cash Payout - $30 000
Progressive - No
Wild Symbol - Yes
Multiplier Symbol - No
Scatter Symbol – No
Bonus Game - No
Gamble – No

Payline Guide
1 x Hibiscus (any) - 1x coins
2 x Hibiscus (any) - 2x coins
3 x Hibiscus - 10x coins
3 x Bars (any) - 4x coins
3 x Single Bars - 20x coins
3 x Double Bars - 50x coins
3 x Triple Bars - 100x coins
3 x Golden 7's - 300x coins
3 x Gold Coast Symbols (line 1) - 1000x coins
3 x Gold Coast Symbols (line 2) - 2000x coins
3 x Gold Coast Symbols (line 3) - 3000x coins
3 x Gold Coast Symbols (line 4) - 4000x coins
3 x Gold Coast Symbols (line 5) - 6000x coins