GOLD RALLY VIDEO SLOT - 3 Reels - 5 Paylines
Playtech has re - enacted the thrill and excitement that enveloped the gold rush and has brought you a 3 reel slot game that has a massive 8 payout lines that will leave you very wealthy if you dig in the right place.
All the equipment is right here. There are horse shoes for the horses which you only need one, two or three of to get some rewards. Then there is the dynamite to blow the tunnels apart, scales to weigh your gold, buckets to hold the gold and mine carts to move the gold. There are also pistols to protect you from bandits and lanterns to see with plus pick axes to dig those difficult areas.
Everything that you will ever need is right here on Gold Rally, so get comfortable, play 1 to 8 lines and see if you can dig out some of that gold all for yourself. But watch out for the Dynamite, as if you get them in all four corners you will win a bonus round. The scales are also very important in this game, as this is your scatter symbol and also the symbol that will award you with the Progressive Jackpot should you get 9 x symbols on one spin.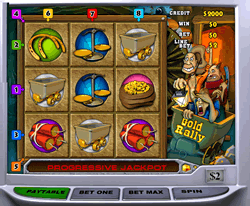 Slot Guide
Reels: 3
Pay lines: 5
Amounts Accepted: $2 – $2
Betting Range:$2 to $16
Maximum Coins Win150x coins
Jackpot: $750
Coins Per Pay Line:1
Max Bet: $25.00
Progressive: Yes
Wild Symbol: No
Scatter Symbol:Yes
Multiplier Symbol:No
Max Bet: 8 coins
Bonus Game: Yes
Free Spins: No
Pay line Guide

1 x pair Horse Shoes - 2x coins
2 x pairs Horse Shoes - 10x coins
3 x Dynamite - 10x coins
3 x Scales (SCATTER) - 20x coins
5 x Scales - 5x coins
6 x Scales - 10x coins
7 x Scales - 50x coins
8 x Scales - 200x coins
9 x Scales - Jackpot
3 x Buckets Gold - 30x coins
3 x Mine Carts - 40x coins
3 x Pistols - 50x coins
3 x Lanterns - 75x coins
3 x Pick Axes - 100x coins
3 x Horse Shoes - 200x coins
3 x Gold Rally Symbols - 500x coins