HAUNTED HOUSE VIDEO SLOT - 3 Reels - 5 Payline
The vampires are out, the bars are breaking the night sky and the chase is on to find the Haunted House. If you like this medieval tale of ghosts, vampires, witches and all things that go bump in the night then this Playtech 3 reel slot game with 5 payout lines is definitely for you.
To protect yourself against all these strange and weird apparitions that come out at night, then a clove or two of garlic will really help. But if you have a goblet, a dagger or a cross at hand and be lucky enough to get three of them on one payout line, then you will certainly be the winner here. But that is not all, there is the vampires bed, his coffin. Find this while he is out prowling the night and you will most certainly be rewarded handsomely.
But the best you can get is to get three garlic cloves on any of the five payout lines. Line One will reward you, as will line 2, 3 and 4, but it is Line 5 that will certainly make this hunt for the Haunted House so worthwhile.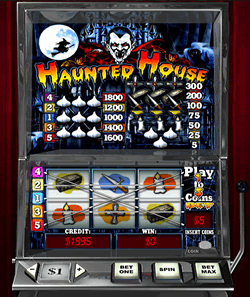 Slot Guide
Reels: 3
Pay lines: 5
Amounts Accepted: $0.01 – $25.00
Betting Range:$0.01 to $5.00
Highest Amount Paid1800 coins
Jackpot: $9,000
Coins Per Pay Line:1
Max Bet: $25.00
Progressive: No
Wild Symbol: No
Scatter Symbol:No
Multiplier Symbol:No
Max Bet: 1 coins
Bonus Game: No
Free Spins: No

Pay line Guide

1 x Garlic - 5x coins
2 x Garlic - 25x coins
3 x Candles - 50x coins
3 x Goblets - 75x coins
3 x Daggars - 100x coins
3 x Coffins - 200x coins
3 x Crosses - 300x coins
3 x GarlicLine 1 - 1000x coins
3 x GarlicLine 2 - 1200x coins
3 x GarlicLine 3 - 1400x coins
3 x GarlicLine 4 - 1600x coins
3 x Garlic Line 5 - 1800x coins