HOT SHOT VIDEO SLOT
The grass is green, the stadium is filling up. The spectators have their popcorn, their coffee, their candy and their hot dogs and it is time for Microgaming to announce that the Hot Shot 3 reel slot game with its 9 payout lines is about to begin.
Here you not only get all the lovely goodies to eat, but get a baseball hat, a picture of the batter or the pitcher, a strike symbol or a home run symbol, and you will most certainly be rewarded handsomely. But get a Wild Ball and you have the wild symbol which will substitute all symbols except the scatter symbol which is the winning cup.
There is certainly a lot to get excited about in this game, so come along, take a seat and let see if you can hit the winning spin in this Hot Shot game.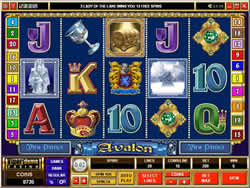 Slot Guide
Reels - 5
Paylines - 9
Coin Sizes (casino sets) - $0.05 - $2
Coins Per Payline – 1
Betting Range - $0.05 up to $18
Highest Pay – 1 000x coins
Max Cash Payout - $2 000
Progressive - No
Wild Symbol - Yes
Multiplier Symbol - No
Scatter Symbol – Yes
Gamble – No
Free Spin Feature - No

Payline Guide
3 x Coffee - 0x, 1x, 5x or 50x coins
3 x Candies - 0x, 2x, 10x or 100x coins
3 x Popcorn - 0x, 3x, 15x or 150x coins
3 x Chips and Ketchup - 0x, 4x, 20x or 200x coins
3 x Hot Dogs - 0x, 5x, 25x or 250x coins
3 x Base Ball Caps - 1x, 10x, 30x or 300x coins
3 x Pitcher - 2x, 20x, 60x or 500x coins
3 x Batter - 3x, 30x, 100x or 700x coins
3 x Strike Symbols - 4x, 40x, 250x, or 900x coins
3 x Home Run Symbols - 5x, 50x 500x 1000x coins
Winning Cups - SCATTER 0x, 10x, 50x or 100x coins Wins
Multiplied by total number of credits staked.
Wild Ball Symbol - WILD Will substitute all symbols except scatter.