JACK IN THE BOX VIDEO SLOT
Knock, Knock Jack in the Box. Knock Knock again if this funny Jack in the Box does not appear as Microgaming has designed a 3 reel slot game with one payout line that has the Jack in the Box as the main prize should you get three of him on one line.
There are also cherries, there are single, double or triple bars and there are magical 7's that are shaped in big dice as well that will all reward you with great financial riches when you get the right combination on the one payout line, but the Jack in the Box is your Jackpot, he is your big prize plus he is your wild symbol that will replace any other symbol to allow you to claim the highest possible winning combination.
But, as an extra, should you get one or two of these symbols on one line, they will then be considered wild symbols and will replace any other symbol plus pay you out 2x and 4x depending if you are using one or two Jack in the Box symbols.
So get winding, get knocking and get winning with this truly classical slot game.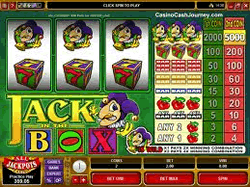 Slot Guide
Reels - 3
Paylines - 1
Coin Sizes (casino sets) - $0.25 up to $5
Coins Per Payline – 2
Betting Range - $0.25 up to $10
Highest Pay – 5000 Coins
Max Cash Payout - $25 000
Progressive - No
Wild Symbol - Yes
Multiplier Symbol - Yes
Scatter Symbol – No
Bonus – No
Gamble – No

Payline Guide
1 x Cherries (Any) - 2x or 4x coins
2 x Cherries (Any) - 3x or 6x coins
3 x Cherries - 10x or 20x coins
Any Bar - 5x or 10x coins
3 x Single Bars - 15x or 30x coins
3 x Double Bars - 30x or 60x coins
3 x Triple Bars - 50x or 100x coins
3 x 7 Dice - 100x or 200x coins
3 x Jack in the Box - 2000x or 5000x coins