JACKPOT EXPRESS VIDEO SLOT
The Jackpot Express is running and Microgaming has secured all the rights to this express and are offering you a 3 reel slot game that has 5 very lucrative payout lines with a wild symbol thrown in to increase your chances of winning.
There are bars, there are seven's and there are carriages that are laden with golden coins. This Jackpot Express is hurdling its way to your computer at full steam, so get online now, and get your share of the riches that this Jackpot Express has onboard.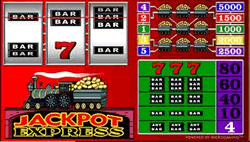 Slot Guide
Reels - 3
Paylines - 5
Coin Sizes (casino sets) - $0.05 up to $5
Coins Per Payline – 1
Betting Range - $0.05 up to $25
Highest Pay – 5000 coins
Max Cash Payout - $25 000
Progressive - No
Wild Symbol - Yes
Multiplier Symbol - No
Scatter Symbol – No
Bonus Game - No
Gamble – No

Payline Guide
3 x Bars (any) - 4x coins
3 x Single Bars - 10x coins
3 x Double Bars - 40x coins
3 x Triple Bars - 60x coins
3 x Red Sevens - 80x coins
3 x Carriages with Gold Symbols (line 1) - 1000x coins
3 x Carriages with Gold Symbols (line 2) - 1500x coins
3 x Carriages with Gold Symbols (line 3) - 2000x coins
3 x Carriages with Gold Symbols (line 4) - 2500x coins
3 x Carriages with Gold Symbols (line 5) - 5000x coins