JET SET VIDEO SLOT
Ever dream of joining the Jet Set, of experiencing great wealth and travelling on a private cruise liner, well then dream no more and come and play this outstanding 3 reel slot game with one payout line that is brought to you by Microgaming.
The cherries, be it one, two or three bring you some rewards, and the bars, single, double or triple are no different. The 3 x sevens truly enrich your bank account and three Jet Set symbols will push that balance truly over the top by paying you out 800x or 1600x your original bet depending if you have bet once or bet twice.
The Jet Set symbol is also wild so it will replace any other symbol plus it will pay out 2 x the winning combination is you have one symbol on the payout line and 4 x if you have 2 symbols.
Live the life you have always wanted to. Hit that spin button and watch how money makes money in this absolutely fantastic game.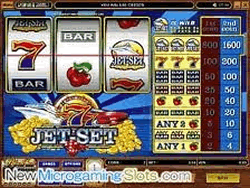 Slot Guide
Reels - 3
Paylines - 1
Coin Sizes (casino sets) - $0.25 up to $5
Coins Per Payline – 2
Betting Range - $0.25 up to $10
Highest Pay – 5000 Coins
Max Cash Payout - $25 000
Progressive - No
Wild Symbol - Yes
Multiplier Symbol - Yes
Scatter Symbol – No
Bonus – No
Gamble – No

Payline Guide
1 x Jet Set (Any) - 2x winning combination (Wild Symbol)
2 x Jet Set (Any) - 4x winning combination (Wild Symbol)
1 x Cherries (Any) - 2x or 4x coins
2 x Cherries (Any) - 5x or 10x coins
3 x Cherries - 20x or 40x coins
Any Bar - 3x or 6x coins
3 x Single Bars - 10x or 20x coins
3 x Double Bars - 25x or 50x coins
3 x Triple Bars - 50x or 100x coins
3 x 7's - 100x or 200x coins
3 x Jet Sets - 800x or 1600x coins