JUNGLE JIM VIDEO SLOT
Jungle Jim and Microgaming are exploring the jungle and invite you to come along and see what they have found in this 5 reel slot game with 15 payout lines.
Under the palm trees they have found Venus fly trap plants, purple spiders, Orange stripped boas and black panthers which the red haired scientist is very interested in, and the mad professor has his hands full looking at the red piranhas and the yellow, orange, purple, red and green crocodiles that can be found in the bonus lake. This lake can only be visited if you get the 3x, 4x or 5x bonus crocodiles on one line as this activates the bonus game. This bonus symbol also activates the free spin games that has a 5x multiplier attached to it.
The Jungle picture is wild and will replace all symbols except the bonus and scatter symbol which is a pile of wood. These scatter wins, when 3,4 or 5 or found on one line will be multiplied by line bet and added to pay line wins.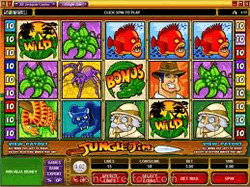 Slot Guide
Reels - 5
Pay lines - 15
Coin Sizes (casino sets) - $0.01 - $0.50
Coins Per Pay line – 10
Betting Range - $0.05 up to $75
Highest Pay – 4000
Max Cash Payout - $20 000
Progressive - No
Wild Symbol - Yes
Multiplier Symbol - Yes
Scatter Symbol – Yes
Free Spins – Yes
Bonus Game – Yes
Gamble – Yes

Payline Guide
3 - 5 x Venus Fly Trap plants- 5x, 20x or 100x coins
3 - 5 x Red Piranhas - 5x, 20x or 100x coins
3 - 5 x Purple Spider - 8x, 30x or 150x coins
3 - 5 x Orange stripped boa- 10x, 30x or 200x coins
2 - 5 x Black Panther - 2x, 16x, 80x or 400x coins
2 - 5 x Red haired scientist- 4x, 20x, 100x or 500x coins
2 - 5 x Mad Professor - 5x, 20x, 100x or 750x coins
2 - 5 x Jungle Jim - 5x, 50x, 150x or 1500x coins
2 - 5 x Jungle Picture (WILD) - 10x, 200x, 800x or 4000x coins (Substitutes all symbols except Scatter and bonus)
3 - 5 x Split wood (SCATTER) - 5x, 20x or 50x coins (Wins added to line Wins and all wins multiplied)
3 – 5 x Bonus Crocodile- 5x, 20x or 50x coins (gets up to 10x free spins Plus all wins x 5 and added to line win)