LIONS SHARE VIDEO SLOT
Microgaming has travelled to the plains of Africa to find this game. The lions all hunt in packs, but there is always the alpha male who is the leader, and in this 3 reel slot game with one payout line, that is no different.
The Lion sits with all his gold coins and he is protecting it all with all that he can, but he is prepared to share some with you if you play your reels right. Spin and get two or three cherries on the payout line or three single, double or triple bars and he will definitely share some money with you. Get three of his stacks of gold coins on one line and your rewards increase dramatically, but get three lions on the payout line, and hopefully you have bet 3x, the jackpot will all be yours and will pay you out 8000x your original bet.
But the lion wants to be more than just a winning symbol, so he has opted to be wild as well. He will replace any symbol on the payout line to make sure that you can win the highest possible amount plus he will multiply your winnings by 2 or by 4 depending if you are using one or two lion symbols as wild symbols.
Kick back, hit that spin button and roar with joy when you hit those winning symbols.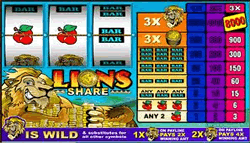 Slot Guide
Reels - 3
Paylines - 1
Coin Sizes (casino sets) - $0.25 up to $5
Coins Per Payline – 3
Betting Range - $0.25 up to $15
Highest Pay – 8000 Coins
Max Cash Payout - $40 000
Progressive - No
Wild Symbol - Yes
Multiplier Symbol - Yes
Scatter Symbol – No
Bonus – No
Gamble – No

Payline Guide
1 x Lions (any) - 2 x winning combination (Wild)
2 x Lions (any) - 4 x winning combination (Wild)
2 x Cherries (any) - 1x, 2x or 3x coins
3 x Cherries - 2x, 4x or 6x coins
3 x Bar (any) - 5x, 10x or 15x coins
3 x Single Bars - 20x, 40x or 60x coins
3 x Double Bars - 50x, 100x or 150x coins
3 x Triple Bars - 100x, 200x or 300x coins
3 x Gold Coins - 300x, 600x or 900x coins
3 x Lions - 2000x, 4000x or 8000x coins