MAD HATTER VIDEO SLOTS - New with 30 paylines!
Mad Hatter, Microgaming's latest addition to the entertainment world. This great video slot game is packed with memories of yesteryear, and rewards for the future. Mad Hatter boasts five reels and thirty pay lines, and the game features with two different Wild and Scatter symbols. The wild Mad Hatter's hat which is continued through normal play, and the second wild symbol which you get to choose, features in the Free Spins, expanding to accommodate greater rewards and substitutes for all symbols other than the two scatters. Three or more scattered March Hare in a hat will reward you with up to 50 free spins, whereas three or more Cuckoo Clocks will open into a new screen giving you the opportunity to choose up to three symbols which will reveal your bonus payout. Our offer to you is to join in the Mad Hatter's tea party, have your cake and eat it, and above all enjoy your rewards; they are certainly well worth it.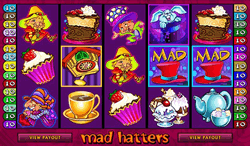 Background to the Mad Hatter's video slot
The term "Mad Hatter" is popularly recognized from the character described in Alice in Wonderland by Lewis Carroll. He was the partner of the March Hare at the Mad Tea Party. Lewis Carroll did not invent the phrase, although he did create the characters. HATTER'S really did go mad. The chemicals used in hat-making included mercurous nitrate, used in curing felt. Prolonged exposure to the mercury vapors caused mercury poisoning. Victims developed severe and uncontrollable muscular tremors and twitching limbs, called "hatter's shakes". However, in this awesome video slot game, the only madness is the great features offered with two scatter and two wild features, as well as the opportunity of having up to fifty free spins awarded while enjoying your tea party.
Slot Guide
Reels - 5 Reels
Paylines - 30 Paylines
Coin Sizes - 0.01, 0.02, 0.05, 0.10, 0.20, 0.25
Coins per Payline - 1 to 10
Highest Pay - 200 000 coins
Maximum Jackpot - 20 000 coins x 10 coins per line = 200 000 coins in base game, 30 lines x 10 coins per line x 37 = 11 100 coins in bonus game, and 20 000 coins x 10 coins per line x 2 multipliers = 400 000 coins in Free spin game.
Wild Symbol - Yes (Two different symbols)
Scatter symbol - Yes (Two different symbols)
Free Spins - Yes
Bonus Spins - Yes
Feature - Yes (Two features)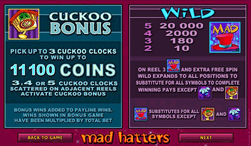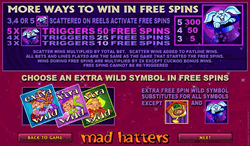 Payline Guide
Wild Hat - 20 000 times 10 coins
Cuckoo Scatter - 1 110 times 10 coins
March Hare scatter - 300 times 10 coins
1st Mad Hatter - 2 000 times 10 coins
2nd Mad Hatter - 1 500 times 10 coins
3rd Mad Hatter - 1000 times 10 coins
Tea Pot - 400 times 10 coins
Slice of Cake - 200 times 10 coins
Bowls of Ice Cream - 150 times 10 coins
Tea Cup - 120 times 10 coins
Cup Cake - 100 times 10 coins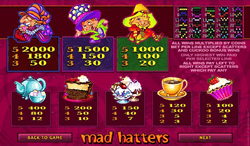 Mad Hatter Video Slot Summary
Mad Hatter's, a video slot game that is packed with fun, great rewards and of course fantasy. The animation, sound and graphics are of the highest quality which will keep you totally entertained for hours, and to top it all there are dividends beyond your imagination - a must!