MARDI GRAS SLOTS
Red Party 7's, Blue 7's and Mixed 7's are your gateway to spending some hours in the Mardi Gras. This great new little games, with the complements of Microgaming, will bring back memories of years gone by.
Mardi Gras is a 3 reel x 1 payline Slot, that enables you to decide how much you want to wager, as each coin played pays out its own combination. Carnival time is here, dig out those happy masks, put on those smiles and join us in some awesome fun thats about to begin. To top it all, there is a jackpot prize of 4,000 coins just waiting to be won on a maximum wager of 3 coins.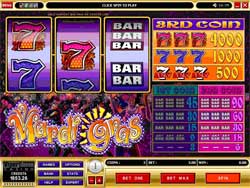 The "buy a pay" style of this slot means that, while coins one and two only activate the bars paylines, a third coin (max bet) is required to activate the 777's paylines. If you can afford the $5 wager, you stand in line to win a massive $20 000.
Slot Guide
Reels - 3
Paylines - 1
Coin Sizes - 0.25; 0.50, 1.00, 2.00, 5.00
Coins Per Payline - 3
Highest Pay - 4 000 Coins
Progressive - No
Wild Symbol - No
Bonus Symbol - No
Scatter Symbol - No
Feature - No
Gamble - No
Payline Guide
Rainbow 777's - (3rd Coin Only) 4000 payout for 3 coins
Blue 777's - (3rd Coin Only) 1000 payout for 3 coins
Any 777's - (3rd Coin Only) 500 payout for 3 coins
Triple Bar Symbols - 90 payout for 2 coins
Double Bar Symbols - 60 payout for 2 coins
Single Bar Symbols - 30 payout for 2 coins
Any Bar Symbols - 18 payout for 2 coins
No Symbols on Payline - 6 payout for 2 coins