MOONSHINE VIDEO SLOTS
A little drink of Moonshine and you will be zooming around the room. This powerful liquor is a high proof ethanol, and could probably start your cars engine, so imagine what it will do for you. The triple X depicted in cartoons is an indication of how strong this fuel is, and the XXX means that the vapor has gone through the process three time. The more X's on the bottle, the higher the alcohol content, the better your chances of all fall down, and staying down. When they say you can get blind drunk, they meant just that. It has been documented that people who drank high-proof ethanol (Moon Shine) became blind, and in some cases there were reports that people actually died. This reality video slot is brought to you by Microgaming Viper Software, and you can be assured that the great graphics and sound effects will have you rolling on the floor for hours at a time.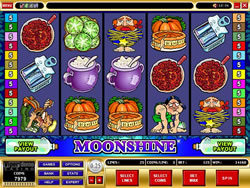 Moonshine can cause you to be scatterbrained, but not this Granny. She will never pass up the opportunity to take on and substitute for any symbol other than the Scatter and Bonus and add to your pocket. Three or more Bonus bottles open an entirely new window for you by giving you the choice of which moon you want. Each time you choose a moon, the quantity of free spins and multiplier will be revealed, all of which will be added to your payline bet. The man of the hour is around at all times, this is the sheriff making an appearance on two or more on any line or reel as he scatters, adding to your payline bet.
Slot Guide
Reels - 5
Paylines - 25
Coin Sizes (casino sets) - 0.01, 0.02, 0.05, 0.10, 0.20, 0.25, 0.50; 1.00
Coins Per Payline - 1 to 5
Highest Pay - 40 000 Coins
Maximum Jackpot - 40 000 coins for 5 Wild wild symbols (8 000 x 5) Grow this to 160 000 coins if you hit this during free spin play with up to 4 times
Progressive - No
Wild Symbol - Yes
Scatter Symbol - Yes
Feature - Yes (Yes – Selection screen and free spins with multiplier)
Gamble - No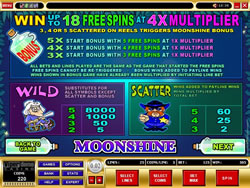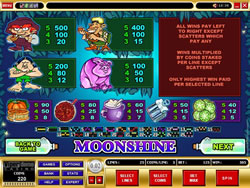 Payline Guide
Granny in the Rocking Chair Wild Symbols - 8000 times 5 coins
Sheriff Scatter Symbols - 60 times 5 coins
Farmer with Pipe Symbols - 500 times 5 coins
Banjo Player Symbols - 400 times 5 coins
Watchman Symbols - 200 times 5 coins
Pig Symbols - 100 times 5 coins
Pumpkin pie Symbols - 90 times 5 coins
Stir Fry in a Pan Symbols - 80 times 5 coins
Sugar Bowl Symbols - 60 times 5 coins
Sardines Symbols - 50 times 5 coins
Sliced fruit Symbols - 40 times 5 coins