RHARAOH'S FORTUNE VIDEO SLOT
If the mystery of Egypt has ever tweeked your interest then this game is definitely for you. There are Blue Scarabs, pyramids, golden bars that come in singles, doubles and triples and there is the great Tutankhamen's cast all waiting here to reward you should you dare to spin the reels of this three reel slot game with it one payout line.
The Blue Scarrabs are busy and you will find them all over the reels, but they are not only there to create business, they also reward you when you get a little as one on your payout line. Get two, or get three and your rewards definitely increase, but it is Tutankhamen that you truly want to find as he has all the wealth.
Tutankhamen invites you to bet once or to bet twice if you are not too concerned about winning and winning big, but if you are one of those players who likes to go all out and win and win big, then Tutankhamen definitely will advise you to bet it all and bet 3x. The Jackpot now is truly within your reach.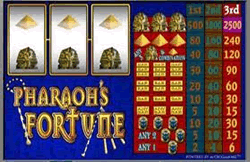 Slot Guide
Reels - 3
Paylines - 1
Coin Sizes (casino sets) - $0.25 to $5
Coins Per Payline – 3
Betting Range - $0.25 up to $15
Highest Pay – 2500 Coins
Max Cash Payout - $12 500
Progressive - No
Wild Symbol - No
Multiplier Symbol - Yes
Scatter Symbol – No
Bonus Game - No
Gamble – No
Payline Guide
1 x Blue Scarab (any) - 2x, 4x or 6x coins
2 x Blue Scarabs (any) - 5x, 10x or 15x coins
3 x Blue Scarabs - 10x, 20x or 30x coins
3 x Bars (any) - 5x, 10x or 15x coins
3 x Single Bars - 10x, 20x or 30x coins
3 x Double Bars - 20x, 40x or 60x coins
3 x Triple Bars - 30x, 60x or 90x coins
Tutankhamen/Pyramid (any) - 40x, 80x or 120x coins
3 x Pyramids - 80x, 160x or 240x coins
3 x Tutankhamen - 500x, 1000x or 2500x coins