PIRATES PARADISE VIDEO SLOT
On a tropical island where the sun is shining, the palm trees are growing and the sand is golden, 3 pirate parrots have found the gold and are truly in Pirates Paradise. This is the dream of any Pirate, or any buccaneer or any bandit, so come along me matties and let see if we can find some of this pirate treasure for you.
Golden shells scatter the beach and when you spin this 3 reel slot game with its one payout line, you will definitely get rewarded for finding some of these shells. Spin again and see what you can get. It may be bars, it may be the pirates flag or it might just be that treasure chest that is converted by so many treasure hunters.
It does not matter what they have, when you sit down to play this game all that treasure could suddenly become yours and Pirates Paradise will belong to you and only to you.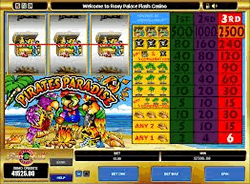 Slot Guide
Reels - 3
Paylines - 1
Coin Sizes (casino sets) - $0.25 to $5
Coins Per Payline – 3
Betting Range - $0.25 up to $15
Highest Pay – 2500 Coins
Max Cash Payout - $12 500
Progressive - No
Wild Symbol - No
Multiplier Symbol - Yes
Scatter Symbol – No
Bonus Game - No
Gamble – No

Payline Guide
1 x sea shell (any) - 2x, 4x or 6x coins
2 x sea shell (any) - 5x, 10x or 15x coins
3 x sea shells - 10x, 20x or 30x coins
3 x Bars (any) - 5x, 10x or 15x coins
3 x Single Bars - 10x, 20x or 30x coins
3 x Double Bars - 20x, 40x or 60x coins
3 x Triple Bars - 30x, 60x or 90x coins
3 x Pirates chest/ flag (any) - 40x, 80x or 120x coins
3 x Pirate Flags - 80x, 160x or 240x coins
3 x Treasure Chests - 500x, 1000x or 2500x coins