REELS ROYCE VIDEO SLOT
The grand old Reels Royce 3 reel, 3 payout line slot game is brought to you by Microgaming. There is an air of opulence, and air of magnificence and an air of absolute splendour to this game.
This is truly one of those classic games. There are no extras such as progressive jackpots or wild cards, this is all about playing a 3 reels slot game that has three payout lines where any single, double or triple bar will start rewarding you for getting them all on one line. Red Sevens are also here and turquoise sevens with the Reels Royce emblem bring you all the opulence that is offered in this game.
Bet once, bet twice or bet three times and start earning as much as 4000x your line bet. This is truly a fun and exciting game, so come along and enjoy the ride in this wonderful Reels Royce.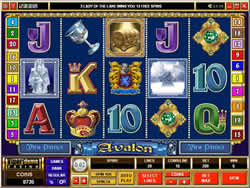 Slot Guide
Reels - 3
Paylines - 3
Coin Sizes (casino sets) - $0.05 up to $5
Coins Per Payline – 1
Betting Range - $0.05 up to $15
Highest Pay – 4000 coins
Max Cash Payout - $20 000
Progressive - No
Wild Symbol - No
Multiplier Symbol - No
Scatter Symbol – No
Bonus Game - No
Gamble – No

Payline Guide
3 x Bars (any) - 5x coins
3 x Single Bars - 10x coins
3 x Double Bars - 20x coins
3 x Triple Bars - 50x coins
3 x Sevens (any) - 75x coins
3 x Sevens (Red) - 150x coins
3 x 7 Reels Royce (line 1) - 1000x coins
3 x 7 Reels Royce (line 2) - 2000x coins
3 x 7 Reels Royce (line 3) - 4000x coins