ROMAN RICHES VIDEO SLOT
This 3 reel slot certainly brings you a variety of ways to fulfil your dreams of obtaining some of those ancient and wonderfully lucrative Roman Riches.
Get any three bars on one line and you will start earning some riches, get 3 x single bars, double bars, triple bars or sevens all on one of the payout lines and you will suddenly be scoring more riches that what you thought, but get hold of 3 x golden busts of a roman emperor, in one of the five different payout lines and your winnings will certainly escalate to a dramatic level.
But this Roman Emporar Bust is also a wild symbol which means that this symbol will replace any other symbol on the payout line to ensure that you get the highest possible payout.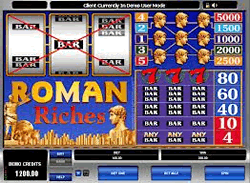 Slot Guide

Reels - 3
Paylines - 5
Coin Sizes (casino sets) - $0.25 to $5
Coins Per Payline – 1
Betting Range - $0.25 up to $25
Highest Pay – 5000 Coins
Max Cash Payout - $25 000
Progressive - No
Wild Symbol - Yes
Multiplier Symbol - No
Scatter Symbol – No
Bonus Game - No
Gamble – No

Payline Guide
3 x Bars (any) - 4x coins
3 x Single Bars - 10x coins
3 x Double Bars - 40x coins
3 x Triple Bars - 60x coins
3 x Sevens - 80x coins
3 x Roman Emperor Bust
Payline 1 - 1000x coins
Payline 2 - 1500x coins
Payline 3 - 2000x coins
Payline 4 - 2500x coins
Payline 5 - 5000x coins