ROYAL 777 VIDEO SLOT
The red velvet cushion is in place, the gold crown is lying on the cushion and the sevens are all lined up for action. Microgaming has put together a 3 reel slot game with 1 payout line that is fast, exciting and certainly lucrative.
You have three betting options here. Bet once and you will be rewarded, but bet twice and you will definitely get double what you would have got if you only bet once. But bet three times and the world is opened up to you and in the highest payout line, you don't get double as to what you would have got if you bet twice, you get two and a half times that value.
That certainly is all the reason why you should be playing Royal 777. Get spinning right now and is if these sevens are going to make you royalty or not.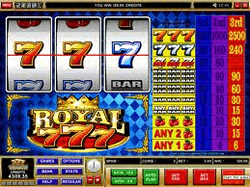 Slot Guide
Reels - 3
Paylines - 1
Coin Sizes (casino sets) - $0.25 to $5
Coins Per Payline – 3
Betting Range - $0.25 up to $15
Highest Pay – 2500 Coins
Max Cash Payout - $15 500
Progressive - No
Wild Symbol - No
Multiplier Symbol - Yes
Scatter Symbol – No
Bonus Game - No
Gamble – No

Payline Guide
1 x Cherries (any) - 2x, 4x or 6x coins
2 x Cherries (any) - 5x, 10x or 15x coins
3 x Cherries - 10x, 20x or 30x coins
3 x Bars (any) - 5x, 10x or 15x coins
3 x Single Bars - 10x, 20x or 30x coins
3 x Double Bars - 20x, 40x or 60x coins
3 x Triple Bars - 30x, 60x or 90x coins
3 x Sevens (any) - 40x, 80x or 120x coins
3 x Sevens (Blue) - 80x, 160x or 240x coins
3 x Sevens (Red) - 500x, 1000x or 2500x coins