7 OCEANS VIDEO SLOT
Deep at the bottom of the ocean Microgaming has found a chest of gold. There are bars of gold a plenty that come in the form of single bars, double bars and triple bars that all come into play when you bet once or twice.
But when you bet 3 times all the magic 7's will become your treasure and depending on what 7's you get will dictate what you will be adding to your online casino account.
Get comfortable, get ready to take a deep dive, see the fishes, experience the beauty of the 7 Seas and reap the benefits of playing at this fantastic classic 3 reel slot game with one payout line.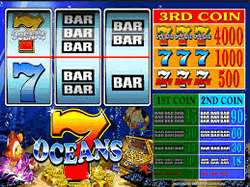 Slot Guide
Reels - 3
Paylines - 1
Coin Sizes (casino sets) - $0.25 to $5
Coins Per Payline – 3
Betting Range - $0.25 up to $15
Highest Pay – 4000 Coins
Max Cash Payout - $20 000
Progressive - No
Wild Symbol - No
Multiplier Symbol - Yes
Scatter Symbol – No
Bonus Game - No
Gamble – No

Payline Guide
3 x Blanks - 3x, or 6x coins
3 x Bars (any) - 9x or 18x coins
3 x Single Bars - 15x or 30x coins
3 x Double Bars - 30x or 60x coins
3 x Triple Bars - 45x or 90x coins
3rd Coin
3 x Sevens (any) - 500x coins
3 x Sevens (Blue) - 1000x coins
3 x Sevens (Red) - 4000x coins