STARSCAPE VIDEO SLOTS - New with 25 paylines!
The release of Starscape video slot is a five reel by twenty five payline game that will have you spellbound beyond the universe with the likes of asteroids, suns, planets and spacecrafts. Gather together three or more of the flying spaceships and you will arrive at your bonus screen. Out of the twenty five pick and match boxes you could be rewarded with anything up to twenty picks where you need to match up at least four blocks. A surprise awaits the one who chooses the block that has the hidden multiplier as this could immediately enhance your bonus win up to as much as 37 500 coins. The Starscape logo will during its rein, replenish your fuel tank as it wildly appears as a substitute. Don't miss this once in a lifetime journey to out of this world.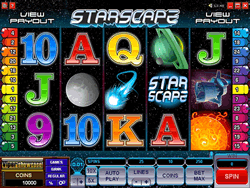 Background to the Starscape video slot
We have been blessed with the fact that we have lived in a century in which humanity took its first steps off the earth through Orville Wright and first walked on the moon through Neil Armstrong. Some people were fortunate enough to have seen both. Most of us will be able to see the first person walk on another planet, Mars, during the early part of this new century. And one of us, alive today, will be that person. Space history is being made before our very eyes on a daily basis, only this time you can be part of this caper as you enter into the outer stratosphere in Starscape.
Slot Guide
Reels - 5 Reels
Paylines - 25 Paylines
Coin Sizes - 0.01, 0.02, 0.05, 0.10, 0.20, 0.25, 0.50, 1.00
Coins per Payline - 1 to 10
Highest Pay - 70 000 coins
Maximum Jackpot - 7 000 coins x 10 coins per line = 70 000 coins in base game, 25 lines x 10 coins per line x 50 X 3 (multiplier) = 37 500 coins in bonus game.
Wild Symbol - Yes
Scatter symbol - Yes
Free Spins - No
Bonus Trigger symbol - Yes
Multiplier Symbol - Yes
Feature - Yes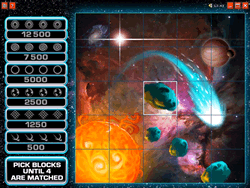 Payline Guide - To follow
Wild Starscape Logo - times 10 coins
Spaceship Scatter - times 10 coins
Sun - times 10 coins
Jupiter - times 10 coins
Saturn - times 10 coins
Asteroid - times 10 coins
Globe (world) - times 10 coins
Ace - times 10 coins
King - times 10 coins
Queen - times 10 coins
Jack - times 10 coins
Ten - times 10 coins
Nine - times 10 coins
Starscape Video Slot Summary
Brace yourself for lift off, Starscape is about to take off at full throttle irrespective of who is on board. This high flying game offers a second screen Pick until Match Bonus game with rewards that will leave you star-struck. Finding the hidden multiplier Boosts your winnings, and a collision with the Wild symbol will double your payline bet.