TREASURE NILE VIDEO SLOT
Travel with Microgaming to the land of Egypt where the sun always shines and where history lies buried deep beneath the burning sand. Treasure Nile is a 5 reel slot game that depicts all the treasures of time gone by and you can claim some of this wealth when you find the right combinations in the 9 payout lines that this game has.
You will find golden Headgear, Felucca's sailing down the Nile with their sails billowing, you will find the tops of elaborate columns, scrolls with hieroglyphics secrets, puffed up cobras and elaborate necklaces. You will also find the Ankh symbol which is the symbol of life and Anubis who is reputedly the god who will guide you through the underworld.
No game that emanates from Egypt would be complete with the Sphinx or King Tutankhamun. The Sphinx has a fantastic reward waiting for you should you get 5x of these symbols on any one payout line, but King Tutankhamun has even a greater reward for the same placing of your symbols except King Tutankhamun goes one step further and should you get 5 of his symbols on the 9th payout line, and you have bet the max bet, the Progressive Jackpot will all be yours.
The landscape picture of the Pyramids is your wild symbol here and this symbol will replace any other symbol on any payout line except the scatter symbol which is a golden scarab. This scatter symbol multiplies your wins by credits staked and wins are added to your pay line winnings.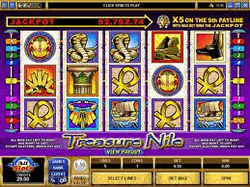 Slot Guide
Reels - 5
Pay lines - 9
Coin Sizes (casino sets) - $0.05
Coins Per Pay line – 1
Betting Range - $0.05 up to $4.50
Highest Pay – Jackpot
Max Cash Payout - Jackpot
Progressive - Yes
Wild Symbol - Yes
Multiplier Symbol - No
Scatter Symbol –Yes
Free Spin Feature – No
Gamble – No
Bonus Game – No

Payline Guide
2 – 5 x Head Gear - 1x, 2x, 6x or 60 x coins
2 – 5 x Felucca (Egyptian Sailboats) - 2x, 3x, 8x or 100x coins
3 – 5 x Column Top - 4x, 12x or 120x coins
3 – 5 x Scrolls - 5x, 15x or 150x coins
3 – 5 x Cobras - 6x, 25x or 500x coins
3 – 5 x Ornamental Necklace - 8x, 30x or 600x coins
3 – 5 x Ankh Symbol - 10x, 40x or 1000x coins
3 – 5 x Anubis - 12x, 60x or 1500x coins
3 – 5 x Sphinx - 20x, 80x or 3000x coins
3 – 5 x King Tutankhamun - 25x, 250x or 6000x coins (5x Jackpot on pay line 9)
3 – 5 x Golden Scarab (SCATTER) - 5x, 10x or 50x coins (wins multiplied and added to pay line wins.)
3 – 5 x Pyramids (WILD) - 5x, 10x or 50x coins (replaces all symbols except scatter)