TUNZAMUNNI VIDEO SLOT
Microgaming has certainly gone out of their way to bring you an online 3 reel slot game with one payout line that is fast, exciting, entertaining and, most importantly, lucrative. Tunzammunni certainly checks all these boxes.
This classical slot game has all what you would expect from a standard 3 reel game, but it also has a slight difference to it. Instead of only having the option of betting one coin, you can bet up to 5 coins in this game and the 6th coin puts you into the bracket where there is a progressive jackpot that can be won.
So if you are looking for a classic slot game that has a huge entertainment and excitement level plus has a Progressive Jackpot then look no further as Tunzamunni is truly the answer to all your slot requirement.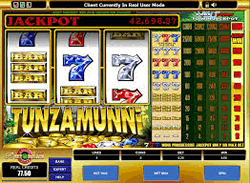 Slot Guide
Reels - 3
Paylines - 1
Coin Sizes (casino sets) - $0.05 up to $5
Coins Per Payline – 5
Betting Range - $0.05 up to $25
Highest Pay – 5000 Coins
Max Cash Payout - $2 500
Progressive – Yes on 5th coin
Wild Symbol - Yes
Multiplier Symbol - Yes
Scatter Symbol – No
Bonus Game - No
Gamble – No

Payline Guide
3x Ticket (any) - 2x, 4x, 6x, 8x or 10x coins
2x Tickets (any) - 3x or 6x coins
3 x Tickets - 10x or 20x coins
3 x Bars (any) - 6x, 12x, 18x, 24x or 30x coins
3 x Single Bars - 15x, 30x, 45x, 60x or 75x coins
3 x Double Bars - 20x, 40x, 60x, 80x or 100x coins
3 x Triple Bars - 40x, 80x, 120x, 160x or 200x coins
3 x Sevens (any) - 80x, 160x, 240x, 320x or 400x coins
3 x Sevens (Blue) - 160x, 320x, 480x, 640x or 800x coins
3 x Sevens (Red) - 200x, 400x, 600x, 800x or 1,000 coins
3 x Sevens (White) - 1,000x, 2,000x, 3,000x, 4,000x or 5,000x coins
3 x Sevens (Red, White, Blue) - 2,500x, 5,000x, 7,500x, 10,000x or Progressive Jackpot