WHEEL OF WEALTH VIDEO SLOTS
To brighten your day, and put wealth back into your pockets where it belongs, Microgaming have once again come to the party in bringing to you this extremely popular Video Slot. Wheel of Wealth Special Edition, has added features for one reason only, and that is to reward you with more entertainment and bigger bank balances. Take a look at the wealth that rolls before your eyes in the form of Lear Jets, Sports Cars, Bank Rolls, Diamonds and Gold Bars, and tell me you don't like what you see! So lets get Rolling and a Reeling in tune, and watch your wealth ballooooooon.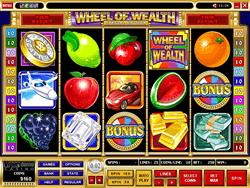 The Reel Bonus feature is triggered by 3 to 4 Bonus symbols, each symbol holds either a value or the opportunity to enter the Wheel of Wealth feature. With 5 Bonus symbols, you will be awarded with the task of spinning the Wheel of Fortune, and whatever value it lands on will be added to your credits. The Gold Coin Scatter doubles all winning combinations, while the Wild Wheel of Wealth symbol substitutes for all symbols other than the Bonus and Scatter symbol.
Slot Guide
Reels - 5
Paylines - 25
Coin Sizes (casino sets) - 0.01, 0.02, 0.05, 0.10, 0.20, 0.25, 0.50
Coins Per Payline - 1 to 10
Highest Pay - 100 000 Coins
Maximum Jackpot - 100 000 coins for 5 Wheel of Wealth symbols (at max coins that's $50 000). You can win 10 000 coins on the Wheel Bonus (at Max coins $5000) and you can win 2000 coins on the Reel Bonus (at max coins $1000)
Progressive - No
Wild Symbol - Yes
Multiplier Symbol - Yes
Scatter Symbol - Yes
Feature - Yes (Wheel Bonus or Reel Bonus)
Gamble - No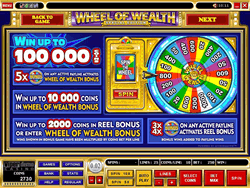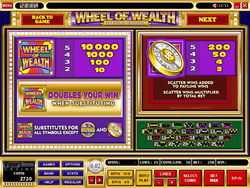 Payline Guide
Wheel of Wealth Symbols - 10 000 times 10 coins
Coin Scatter Symbols - 200 times total bet (Max 250 coins times 200 = 50 000 coins)
Motor Car Symbols - 500 times 10 coins
Diamond Symbols - 300 times 10 coins
Gold Bar Symbols - 250 times 10 coins
Watermelon Symbols - 100 times 10 coins
Orange Symbols - 90 times 10 coins
Lime Symbols - 80 times 10 coins
Apple Symbols - 70 times 10 coins
Grape Symbols - 60 times 10 coins
Cherry Symbols - 50 times 10 coins